We are looking for people who can think and act as merchants.
Now that we continue to take on the challenge of becoming the MARUSHIN of the world from the Japan MARUSHIN, we have an environment here where we can grow together with the company and create the future.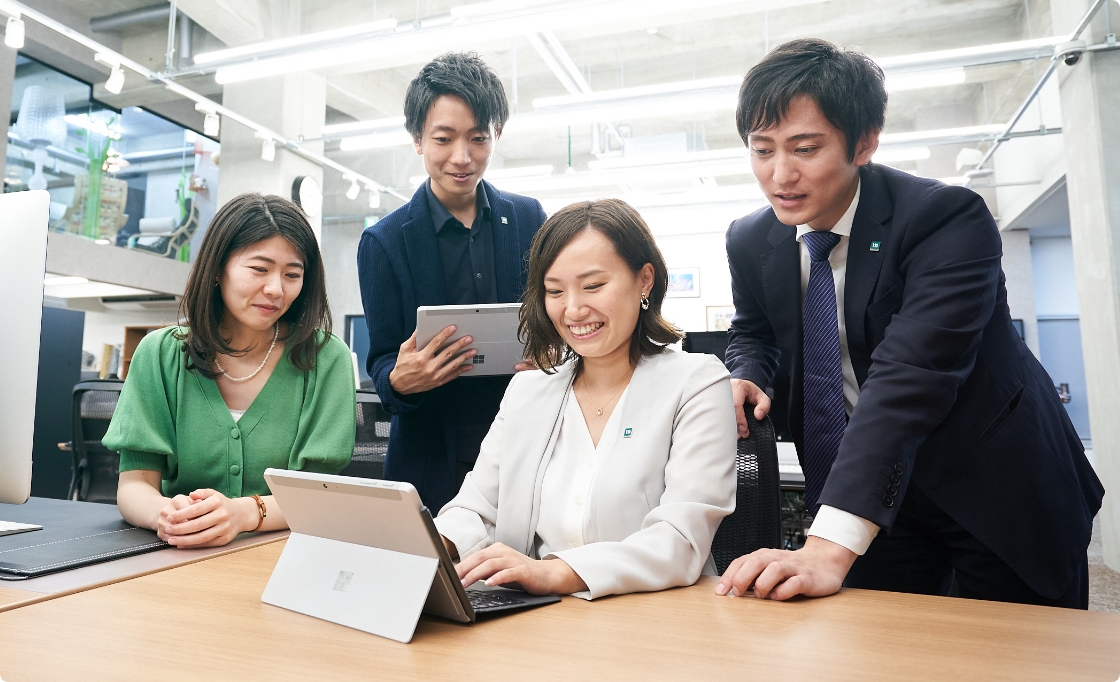 Gender Ratio

Gender Ratio of Administ-rators

Work location distribution

Age Distribution

Occupation Distribution

New Graduates and Mid-career
recruitment ratio

Our Annual Holidays

Years of service

Average overtime hours

Paid day-off usage rate

As of September 2019

Licenses

As of September 2019

History

Own brand

As of September 2019

Number of Employees

As of September 2019

Home town

Means of commuting

Commuting Time Distribution

Workplace attire

Shoes worn at work

Drinks during work

Lunch

Holidays

How to spend a long vacation

Favorite drink

Favorite meal

Zodiac Sign Ranking

Blood type distribution

About the eyes

Distribution of smokers

Favorite animal

Club activities during school days

Favorite genre of music

About Siblings

Living Style
MARUSHIN Café

You can eat sweets as a place to relax while working.
Sweets are provided to each floor by the company, so you can easily access to them, and it is also a place for employees to communicate ,have friendly chats with each other.

MARUSHIN Ice Cream Bar

The ice cream bar is available during lunch breaks.
You can enjoy various flavors such as vanilla, chocolate, orange, and soda and refresh yourself with cold ice cream during a little lunch break!

Company Trip

Once every two years, all employees go on a company trip overseas.
In 2018, we went to Hawaii! You can enjoy luxurious hotels and meals, and deepen communication across departments.

View photos on the event page

Club Activities

There are soccer club, ski club, and golf club, and there is subsidy from the company.
Beginners in each club can be taught by expert employees, so they can gain new experience.
In addition, we can communicate with people in departments that don't usually interact with, so everyone has a lot of fun participating.

View photos on the event page

Lunch Subsidy

A hearty and delicious bento (lunch).
There is a subsidy from the company, so you can eat with a reasonal price.
You can place an order at the same time when you press the time card.
The menu changes daily and never makes you boring, and it is one of the daily pleasures of our employees.

Retirement Allowance

When an employee who has been with the company for five years leaves the company, retirement allowance is paid. (According to our regulations) In addition to retirement, you can gain an economic foundation when you are unable to work due to illness or injury and have to quit the company.

Transportation Expenses Supplied

Transportation expenses for commuting using public transportation such as trains and buses will be paid up to 50,000 yen.
In the case of commuting by your own car, the amount paid varies depending on the distance. (According to our regulations)

Company-Provided Uniform

For summer, two types of clothes and one type of pants style are provided, and you can choose from two patterns for winter clothes.
The scarf to be worn on the chest is unique because each employee can choose what they like.

Training System

In cooperation with external organizations, we also conduct training aimed at improving individual levels, as well as our own training such as new employee training, designer training, sales training, and overseas training.

View photos on the event page

Influenza Vaccination

The entire company is vaccinated in preparation for the flu that circulates every year.
For the head office, Tokyo branch, and Seto logistics center, clinic staff come to the company, so we will be vaccinated at the company. The Osaka branch office is vaccinated individually, but all employees are eligible for subsidies, so they can be vaccinated with a reasonable cost.

Medical Examination

We conduct regular health checkups at the company once a year.
We conduct health checkups, which can be said to be the basis of employee health management, and are working throughout the company to ensure that health problems do not interfere with work.

XIV

You can use luxury resort facilities with your family and friends at low prices.
There are various pleasures such as lounges, bars, spas, pools, esthetics, golf courses, etc., and you can enjoy a high-quality space away from everyday life.

XIV page

Employee Sales

You can purchase our products such as towels, miscellaneous goods, bedding clothes, etc. with low prices.
There are many employees who use their own products such as towels in summer and blankets in winter.
You can feel the goodness of our products once again, which leads to work.

MARUSHIN Clatter

For 100 yen per time, you can get products such as mini towels and eco-bags.
All amounts of the clatter will be donated to WFP's Red Cup campaign.
You can get towels at a low price, and donate them at the same time, so look forward to see what will come out.

Breast Cancer Examination

Breast cancer screenings are conducted for female employees once every two years.
Because 75% of the employees are female and there are many young employees, it is an opportunity for early detection.